Assalamualaikum and good afternoon to all readers.
Okay just now I watched a movie in HBO. The title of the movie is 'Letters To Juliet'. Sophie comes to Verona to go on a 'pre-honeymoon' with her fiance. However, her fiance becomes very busy with his chef job and starts to ignore Sophie.
When she walks alone in Verona, she discovered a wall where people (mostly women) leave notes, hoping that Juliet will answer their problems about love.
Soon, she volunteers to be one of 'Juliet's Helpers' to answer those letters. When Sophie answers a letter from 1957, the woman (Claire) who wrote the letter decides to find her long-lost soul mate (Lorenzo)
They couldn't find Lorenzo anywhere. After dinner, Sophie goes out with Charlie (Claire's grandson) and talks with him about love, when he impulsively kisses her.
They try to find Lorenzo everywhere but their efforts are just in vain. They despair not long after that. Then, by coincidence they found Lorenzo at one of the wine field. Claire and Lorenzo reunite after fifty years.
Back in New York, Sophie breaks up with her fiance and before attending Claire and Lorenzo's wedding. She finds Charlie is there with another woman, Patricia, and runs out. Charlie comes to find her and she admits that she loves him but tells him to go back to his date. Then, Charlie tells her that Patricia is just his cousin and not his ex-girlfriend Patricia, he tells her that he loves her and wants to be with her. He accidentally falls of the balcony and then they kiss as he is lying on the ground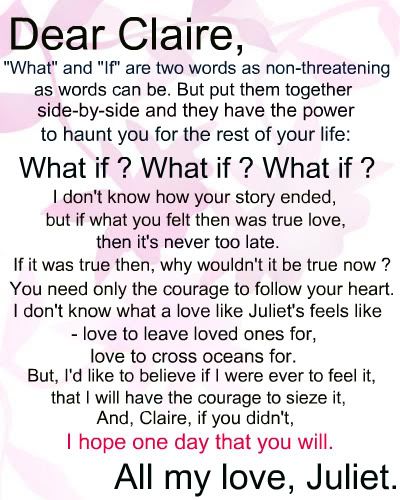 When it comes to love, it is never too late